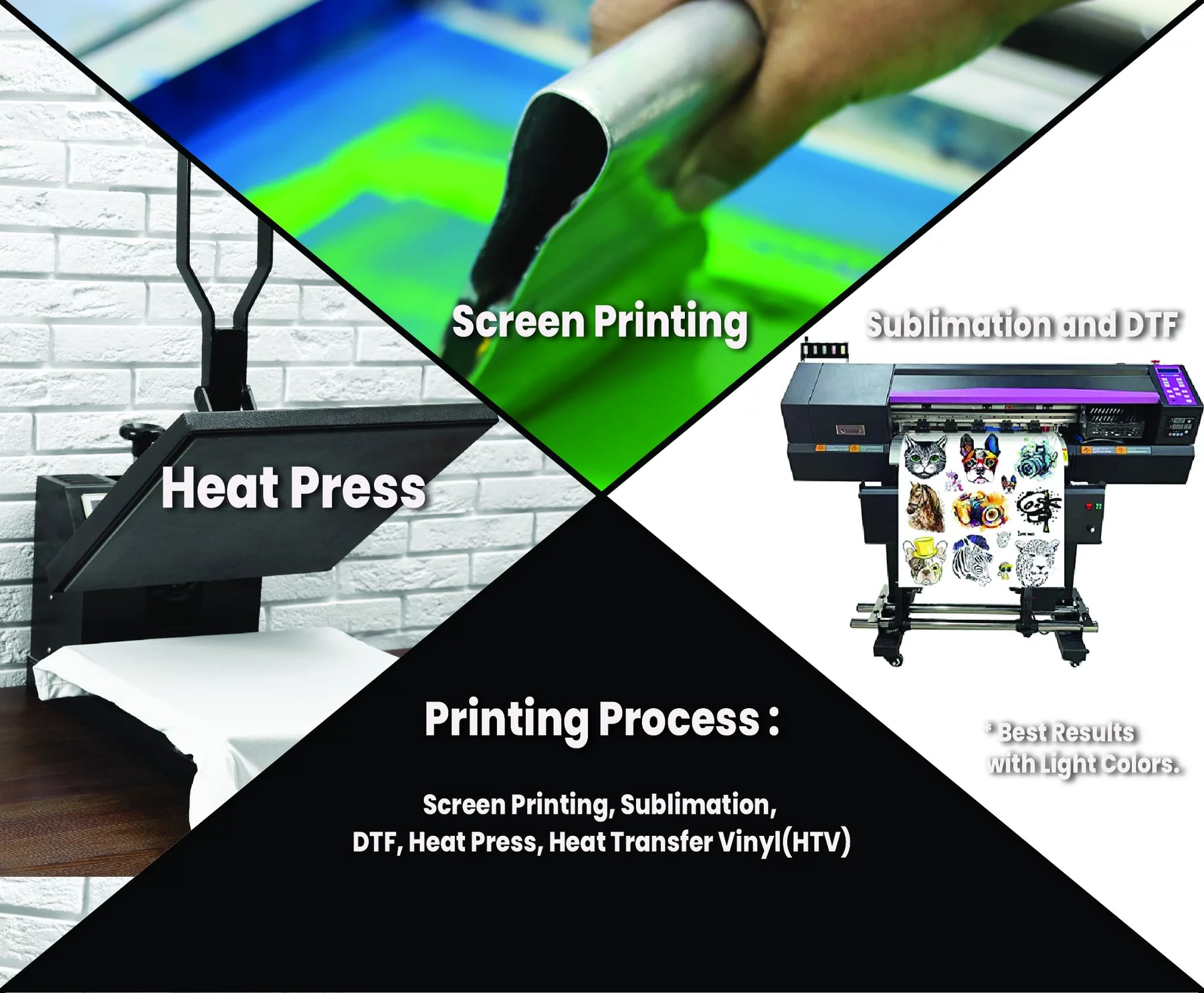 Heat Transfer Vinyl (HTV) vs Sublimation Printing - Which Is Right For You?
If you're looking to create custom t-shirts or other custom printed products, you have a few different printing methods to choose from. Two of the most popular methods are heat transfer vinyl (HTV) and sublimation printing. You may be familiar with these terms, but you may be wondering which is right for you.
In this article, we'll explore the key differences between these two printing methods, and compare the pros and cons to help you make an informed decision about which is best for your next project.
Keep reading to learn more!
What is Heat Transfer Vinyl (HTV)?
Heat transfer vinyl, also known as HTV or iron-on vinyl, is a type of material with a heat-activated adhesive that can be cut into any shape using scissors or a die-cutting machine. After the design is cut, it can be transferred onto fabric using an iron or a heat press.
HTV comes in sheets or rolls and is available in a wide range of colors, patterns, and finishes including glossy, metallic, glitter, and holographic, and can be used to create both simple and complex designs. Once applied, HTV creates a durable, long-lasting bond with the fabric and the design becomes permanent after cooling.
 Printed garments using HTV can be washed just like any other piece of clothing and the design can last for years with the proper care.
What is Sublimation Printing?
Heat sublimation is a digital printing process that uses heat to transfer dye onto materials such as fabric, ceramic, metal, or wood. It works by first printing the design onto sublimation paper using a special inkjet printer. The paper is then placed onto the material and heated to a high temperature. This causes the dye to vaporize and penetrate the fabric, permanently bonding the design onto the fabric.
Unlike HTV, which relies on an adhesive to bond the design to the fabric's surface, sublimation dyes are absorbed into the material itself. This results in a design that is less likely to crack or peel over time and is actually dyed into the fabric. Sublimated designs are also resistant to shrinking and stretching.
One downside of sublimation is that it can only be done on materials with a polyester coating or those that are at least 50% polyester. This printing method is often used for apparel, mugs, coasters, koozies, mousepads, and other smaller items.
What's the Difference?
Now that we've covered the basics of each printing method, let's look at the key differences to aid your decision-making process.
The main difference between HTV and sublimation printing is how each method adheres the design to the garment. With HTV, you're essentially bonding a layer of vinyl to the surface of the fabric with heat and pressure. With sublimation, you're actually dyeing the fabric itself so that the design becomes part of the garment. This makes sublimation more durable and longer-lasting than HTV. Because of this difference, HTV is typically better suited for harder surfaces like wood, glass, metal, or plastic, while sublimation works best on natural fabrics like cotton or polyester.
Another key difference is that HTV can be applied with an iron or heat press, while sublimation requires a special printer and transfer paper as well as a heat press.
In addition, because HTV only transfers the design onto the surface of the material, you don't need to worry about losing any of the design when cutting it out like you would with sublimation.
Product and Design Considerations 
You probably have lots of creative ideas when it comes to both design and the types of products you can create. But it's important to keep in mind that not all products are compatible with both printing methods and some design considerations will be more important than others depending on the printing method you choose.
You may already have plans for the images you want to produce, however you may be limited in your creativity if you choose one printing method over the other. Let's take a closer look at each option in terms of the design possibilities and the product types that are most compatible with each method.
Because sublimation is an ink transfer process, it is not suitable for use on cotton fabrics as the ink will only fuse with polyester products or those with a high percentage of polyester. Of course, it can also be used on non-fabric surfaces such as glass, metals, ceramics, etc.
The background color is another consideration - whether fabric or another material - designs using sublimation printing will only show up clearly on white or light-colored backgrounds. Dark-colored t-shirts are a no-no!
Vinyl, however, allows for a wider choice of both materials and colors and opens up many more possibilities when it comes to the kinds of products you can print on. There are drawbacks though - you can't combine colors in one print so multi-colored designs, will require cutting, positioning, and heating vinyl sheets of each color separately.
Complex graphics are also difficult to produce with the HTV process - solid blocks of color work best. If you're looking to produce complex, full-color, photo-realistic images, then sublimation needs to be your printing method of choice.
Having looked at some of the considerations you need to take into account when deciding on a printing method, you may now have a better idea of which products will be most compatible with your desired design. Let's look at some of the products that work best with each method.
Ideal Products for Heat Vinyl Transfer Printing
Vinyl printing is versatile and can be used on a wide range of products. It's important to remember though, that the durability of HTV will depend on the type of material you're printing on and how well you take care of the item.
With that in mind, here are some popular products that are ideally suited for heat vinyl transfer printing:
Custom-Printed T-Shirts - These are often created for special occasions such as birthdays, bachelor/bachelorette parties, or themed corporate events and are typically not worn on a regular basis. HTV is a great option for personalizing t-shirts because it's easy to use and relatively inexpensive.
Mugs or Water Bottles - Another popular promotional item that can be easily customized with HTV. These are typically given away at trade shows or corporate events and make great marketing tools.
Koozies, Coolers, and Promotional Gifts - Koozies and coolers are perfect giveaways for corporate picnics, summertime events, or as part of a product promotion when printed with company logos or branding information. These items usually don't see a huge amount of wear and tear so HTV is a good option.
Car and Window Decals - HTV is the perfect medium for car decals and interior window decals. Vinyl is particularly durable when adhered to a hard surface like glass or metal and can withstand exposure to the elements.
Ideal Products for Sublimation Printing
Sublimation is a very versatile method suitable for printing on a wide variety of materials, and with the right type of heat press can be used on many different products. Some examples of products ideal for sublimation  printing are:
Polyester Fabrics - This is the most popular type of fabric for sublimation printing. Polyester is a synthetic fabric that's known for its durability and wrinkle-resistant properties. Think garments, aprons, flags, banners, and tote bags.
Shop Signage - Company signs are often made with sublimation-printed polyester material. The dye-sub process ensures that the graphics will be fade-resistant and can withstand exposure to sunlight and other elements.
Home Decor - Sublimation printing is a popular method for creating custom home decor items like pillow covers, blankets, and shower curtains - even ceramic floor tiles. The prints are permanent and won't fade or bleed over time.
Promotional Products - Printable items with a rigid surface such as cell phone cases, mousepads, koozies, and tumblers are perfect for sublimation printing.
Non-Bendable Products - Polymer-treated materials like plastic, aluminum, and glass can be printed using the sublimation process. These items are often used for promotional purposes with company logos or marketing messages.
=== split content ===
=== split content ===
Cost
In terms of cost, HTV is typically the more affordable option - both the equipment and the necessary consumables are far less costly than those needed for sublimation printing. With heat vinyl transfer, you only need to purchase the vinyl and a heat press or iron. The low cost of this method makes it perfect for small start-ups and hobbyists taking their first steps into the world of custom printing.
Sublimation, on the other hand, requires a more significant financial investment. In addition to the vinyl and heat press, you'll need a dedicated sublimation printer - which can be quite costly - as well as transfer paper, and sublimation inks. These additional consumables make sublimation a more expensive printing method, particularly in the short term. If you plan on doing a lot of sublimation printing though, the initial investment may be worth it in the long run - you'll get both higher quality and longer-lasting results.
Pros & Cons at a Glance
Heat Vinyl Transfer
Pros:
Less expensive
A good choice for small projects
Can be applied to any color material
Cons:
Design is not as durable as sublimation printing
Can't be used on 100% polyester fabrics
Prone to peeling and cracking over time
Not suitable for complex graphics
Sublimation Printing
Pros:
Designs are more durable
Offers more design freedom
Can be applied to a wider range of materials like wood, metal, and glass
Better for large projects
Larger designs can be printed without losing any of the design in the cutting process.
Cons:
More expensive than HTV printing
Special equipment is required
Only works on light-colored materials
Not suitable for cotton garments
Conclusion
As you can see, there are some key differences between HTV and sublimation printing. So, which method is right for you? It really depends on your needs and what you're looking to create. Both printing methods have their own set of pros and cons, so it's important to decide what's most important to you before making a decision.
If cost is your main concern and you're working with a tight budget, HTV is the way to go. However, if you're looking for a more durable and long-lasting design, sublimation is the better option. Ultimately, the decision will come down to your own personal preferences and what you're willing to spend.
We hope this article has helped you better understand the difference between heat transfer vinyl and sublimation printing. If you have any further questions, please don't hesitate to contact us! We would be happy to help you with your next project.